September 19, 2009

Not suitable for…anywhere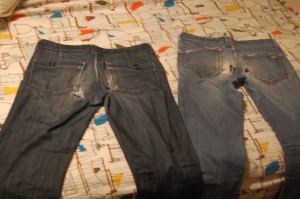 I was working on this post, when I came across Cyclicious' post about the very same thing!  HOLEY JEANS!  I wear the ass out of all my jeans if I wear them to ride.  Another reason that I mainly ride in skirts.
I know, I know…stop riding in jeans.  But sometimes I want to wear jeans places and my only way to get there is via bike.  I have seen a bit of help for men out there, but can't find anything for the ladies.  Swrve has some nice jeans for the fellas, but only offer knickers for us ladies.  Another company, this one in Japan, also offers mens cycling jeans.
All I want is a pair of jeans that will not rip in the ass area.  Is this too much to ask?  I don't even need any padding (although maybe a thin bit of fabric would be nice…oh and no center seams…I digress).  The only pair that has not ripped are an old as dirt pair of stretch jeans from Gap.  I am afraid to pay a lot of money for jeans these days, as they all end up going the way of the ass-holes.
Anyone have any advice?  I really want to ride in normal clothes and not constantly have to change or wear the same 5 skirts, but this is getting ridiculous.  Oh, and it is not just the inexpensive jeans.  The ones with the really bad holes…yeah, they cost $200+ dollars (don't judge-I used to work in fashion!).  Even a good bike/jean hack to reinforce the butt would be helpful.  I am desperate! I look too good in jeans to give them up forever.
Help a sister out! Clothing and cycling companies out there-it is time for a ladies cycling jean.  We will not walk around with holes in our jeans forever!!!
This is part 1 of my "How in the hell to ride and look good in Birmingham" series.  It is more challenging than you think…
Bike Love!